SMAG October 2023 Art Exhibition
SMAG Funds Raised £4,700 to local charities in Oct 2023 Exhibition
Thank you to everyone who came and supported SMAG 13. With 84 sales and nearly 1000 visitors, we able to give an amazing £4,700 to local charities including: Greenwich Food Bank, Greenwich Wildlife Trust, Greenwich Winter Night Shelter, Jericho Road Project, Safe Homes, Debt Centre Greenwich, and of course St Michael's Church.
Since inception, SMAG Art has given £33,200 to charity!
Although the physical exhibition has finished, the online exhibition continues – check out www.smagart.com where artwork can be seen and bought in time for Christmas. The more bought, the more we can give to charity.  
SMAG: Local affordable art to view and buy.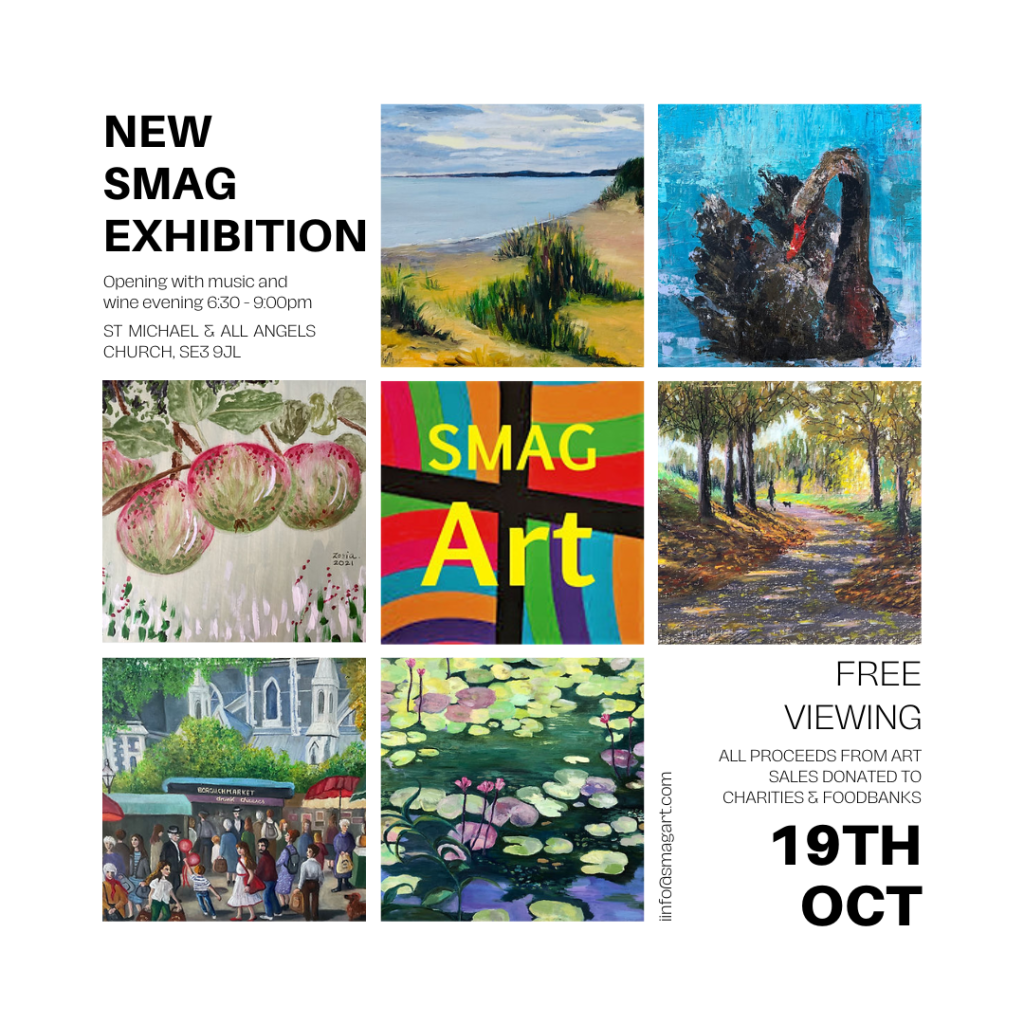 Viewing is free and with the last exhibition showcasing over 300 pieces of art, this event is definitely one for your diaries!
From paintings to sculptures, St. Michaels is always such a wonderful backdrop for these local art pieces. And of course all net proceeds of art sales will be still be donated to local foodbanks and charities!
All of the viewing dates are below, opening with a bang as always with the music and wine night on 19th October.
See you there!
Exhibition Dates:
FRIDAY 20TH OCT 5PM – 8:30PM WITH MUSIC & WINE
SATURDAY 21ST OCT  10:30AM – 5:30PM
SUNDAY 22ND OCT  CLOSED
MONDAY 23RD OCT. 2:30PM – 6:30PM
TUESDAY 24TH OCT. 2:30PM – 6:30PM
WEDNESDAY 25TH OCT 2:30PM – 6:30PM
THURSDAY 26TH OCT 2:30PM – 6:30PM
FRIDAY 27TH OCT  5:00PM – 8:30PM WITH MUSIC & WINE
SATURDAY 28TH OCT 10:30AM – 6:00PM